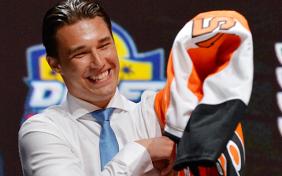 Source: A Look at the 1st Round for the Flyers
by iban3z
It was a long wait, but Draft day arrived. One of the most anticipated draft in years arrived Friday night, but just for the first round. And what a first round it was. We watched future Star, Connor McDavid and Jack Eichel go number one and number 2 respectively.
As Dylan Strome was select at #3 which came as a surprise to many, the pieces fell in the correct place for the Flyers. Earlier this week GM Ron Hextall stated he was targeting Defenseman Ivan Provorov who was ranked at the Top Defenseman in the draft. There were even reports that the Flyers were trying to obtain the Number 3 pick in order to draft him. But as luck would have it, Arizona, Toronto, Carolina and New Jersey let him pass and when the Flyers were up Provorov was selected. Let's take a look at our new future prospect.
Provorov is a 6"0 210lbs left shot Defenseman. He has been talked about by several scouts and hockey reporters and had very high rankings.
Ranked #9 by Hockeyprospect.com
Ranked #7 by ISS Hockey
Ranked #6 by Future Considerations
Ranked #5 by McKeen's Hockey
Ranked #7 by NHL Central Scouting (NA Skaters)
Ranked #8 by TSN/McKenzie
His season with the Brandon Wheat Kings (WHL), Provorov posted 15 goals, 46 assists for 61 points in 60 games with a plus 36 in the +/- rating. This pick stacks up the Flyers blueline for the future. For a team that lacked defense a few years ago will look great in the years to come, most likely starting in the 2016/2017 season where we'll see Travis Sanhiem, Shayne Gostisbehere, Sam Morin and Provorov for certain. It's going to be great to see all of these guys for the Flyers.
Provorov brings size, speed, offensive ability and a good defensive game. He's capable of clearing the porch and taking the puck up ice. He's considered a smaller Victor Headman as TSN analysts put it. We'll find out more in the coming weeks what Hextall's exact plan for Provorov is and we'll get a good look at him at the Flyers Rookie Camp in July.
The Flyers had two picks in the first round and their next selection was at 29, a pick they acquired from Tampa Bay as part of the Braydon Coburn trade. Instead of waiting, Hextall saw that Forward Travis Konecny from the Ottawa 67's was still available. Konecny was not on the Leaf's radar at 24 so they traded the pick to the Flyers for the 29th pick and the 61st pick overall. It's a win for both teams as the Leafs believe the guy they want would still be available and they got an additional pick. The Flyers then selected Konecny. Konecny has a small frame at 5"10 175lbs, but he has speed, quickness, great mobility and good offensive awareness. He had 29 goals and 39 assists last season in the OHL and had 70pts in the previous season. He's expected to play wing for the Flyers.
Now that the Flyers have traded the 61st overall pick, the Flyers have the 70th pick and are expected to look at a goalie. Hextall also is planning to make a few moves prior before free agency so it's a very exciting time to be a Flyers fan as the rebuild is in full swing! Tomorrow, we'll see who else will be part of the Flyers' future.
Follow me on twitter @iban3zhead